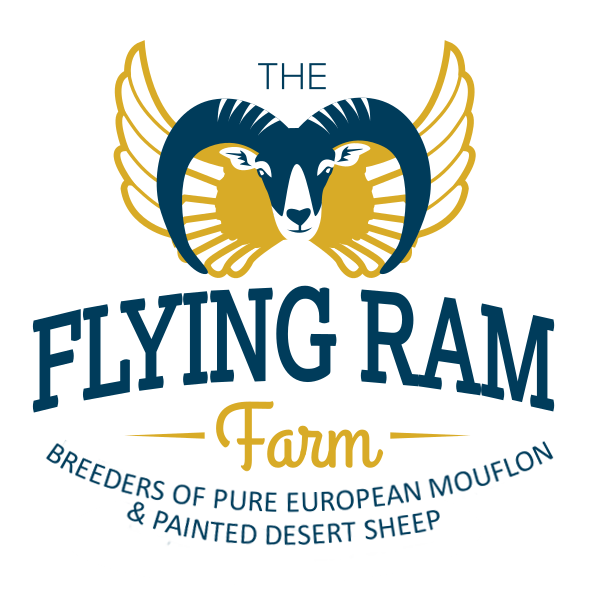 Pond view from top of slide
THE FLYING RAM FARM is located in the small rural town of Lebanon about 20 miles southeast of Hartford, Connecticut. Our place, nestled along the Goshen Brook, is comprised of 40 bucolic acres of pasture, hardwood forest, wetlands and ponds that support a spectacular array of native wildlife and of course our growing flock of Mouflon and Painted Desert Sheep. In addition to this, our farm is home to our dogs, Lulu and Mickey, two llamas, Fawn and Shintoe, as well as numerous Koi. We have worked over the years to make our place into a warm and welcoming haven for family and friends who visit to escape, relax and enjoy the Connecticut countryside. Flying Ram Farm is a member of PDSS and UHHSA.
Mouflon Sheep are a breed apart, native to the wild places of Europe and arguably one of the most beautiful of the species. The Mouflon is a hair or shedding sheep. It has two types of coats, one of hair and an undercoat of wool that grows in the colder months and is completely shed with the arrival of warm weather. Mouflon rams will display impressive heart shaped supracervical horns that can reach lengths of more than 30 inches. A short tail (less than three inches), a white saddle patch and black mane that only appear in winter are also distinguishing features. They are strong, fast and capable of extraordinary leaps under pressure. It is after these beautiful creatures, who can fly like birds with "white winter wings" that we named our farm. For a great description of breed standards please refer to UHHSA.
Our original breeding ram, Krios, was named after the flying ram with the Golden Fleece and came to us as a lamb from Texas. He was sired by the spectacular ram, Wide Trac, out of an ewe named Mia, both from the Hi Lonesome Ranch. Mia was sired by Mousafa, another Hi Lonesome ram, and a Charger ewe from Trailside Exotics in Wisconsin. As such, Krios had some really fine genetics running through his veins. We are now breeding a young ram sired by Krios Hamal that has an even more impressive set of horns, much wider and longer at 18 months, a good reflection of the Wide Trac line.
All of our foundation ewes came to us from Wisconsin and were sired by the the Trailside Exotics ram Leo. Leo was the product of a thoughtful breeding program with a long line of quality animals including rams Rusty, Charger and Bo, all from Trailside Exotics.
Painted Desert Sheep are without question the most colorful of the species. The unique characteristic of these sheep are their markings, which can present in many patterns and varieties of colors. These hair sheep can exhibit color combinations that can range from brown, grey, black , white, mocha, cinnamon, red, roan to yellow for example and can be quite spectacular and splashy in pattern.
Known for their ability to rapidly grow world class horns, which are largely determined by the nature of their breeds, these sheep are prized in the trophy market. Their horns can be round, webbed or supracervical and present in a variety of colors, such as black, yellow, white and variegated. As a hair sheep, they will grow an undercoat of wool in the cooler months which will be completely shed as the season warms. They are hardy and adaptable to almost every climate and are prolific breeders. It is not unheard of for ewes to have three or four lambs with twins very common. Our breeding ram Cepheus came to us from Montgomery Oaks in Alabama. He was sired by a truly beautiful ram, ASC White Chocolate Mocha out of LJVR Prissie Storm. Visit Montgomery Oaks for more information. The majority of our foundation ewes are a product of a thoughtful breeding program of Rhineland Acres in Massachusetts. This includes the genetic contribution of some beautiful rams, the likes of Tummus Two Rafter SB Asland and Rafter SB Tummus. Check out Rhineland Acres for more detail on this line.
For a great description of the breed standards please refer to UHHSA or Painted Desert Sheep Society.
You may know the place… To the most sacred land I know, for 21 years you have taught me relationship: The pricker bush and the clover bud. The leech and the butterfly. The tick and the lady bug. The oak and the gypsy moth. The lightening bug and the first frost....
Send a message here, or email us at flyingramfarm@gmail.com